Dramatic business results happen when organizations respond to change, status quo results in decline and decay. Large or small, organizations have to evolve and grow, responding to the ever changing environment
But change is not easy, established patterns of behavior have to be broken, new and better ways have to be adopted for organizations to remain fit and agile. Krysalis works with the management and teams to envision and create a bigger and brighter future. This requires creation of new and renewed Processes and designing appropriate Structures and developing Systems to support the change.
Our transformation and growth methodology has been fine-tuned over the years , drawing from our experience of working with dozens of small and medium businesses. The methodology is a five step process: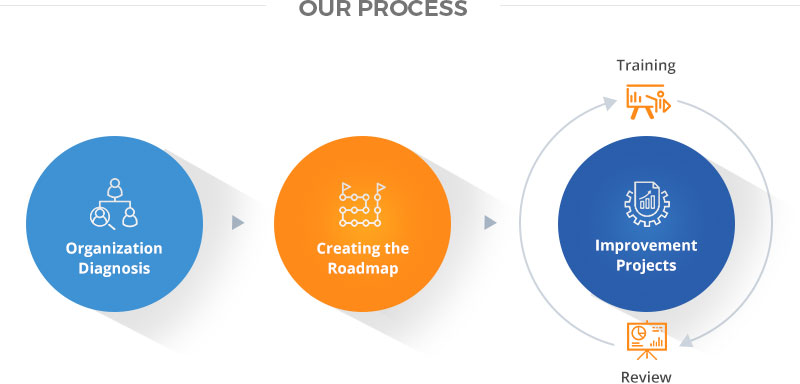 Organization Diagnosis
Typically a 3 to 5 days process involving several meetings with the top team as well as other managers and staff. Visit to the factory is an integral part of the process

Creating the Roadmap
Following this diagnosis, in a workshop session the roadmap for change is created with the full involvement of the client teams. Typically the workshop would extend to two days, where the Goal for the next 5 years would be fixed along with a common understanding of the SWOT for the company.

Improvement projects
The goal for the year is broken up into several improvement projects with clear deliverables and time frames. Teams are formed t work on the projects, which could be for Quality, Cost reduction, Throughput improvement etc. We have found the LEAN manufacturing template to be very useful in this phase of the project.

Training
This is integral to change and transformation. Throughout the engagement, the teams are given appropriate training on soft areas like motivation and leadership and technical areas like TQM, problem solving, statistical methods, LEAN etc.

Review
Periodic reviews are held at various levels: daily meetings in the shop floor, weekly review at departmental levels and monthly reviews with the whole team. During these reviews the project status is checked against planned and course corrections made as needed.
Our clients have shown dramatic progress- some have grown two and three times in turnover and profits is
eighteen months.