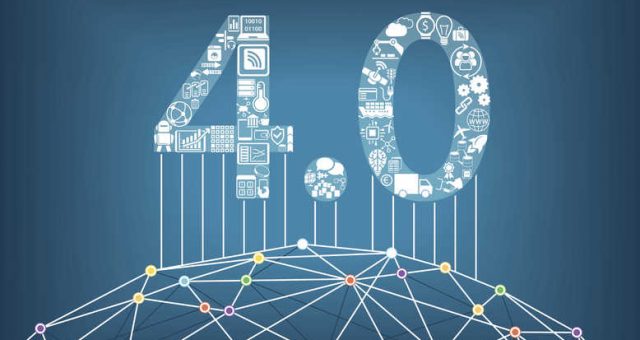 Is India ready yet for industry 4.0?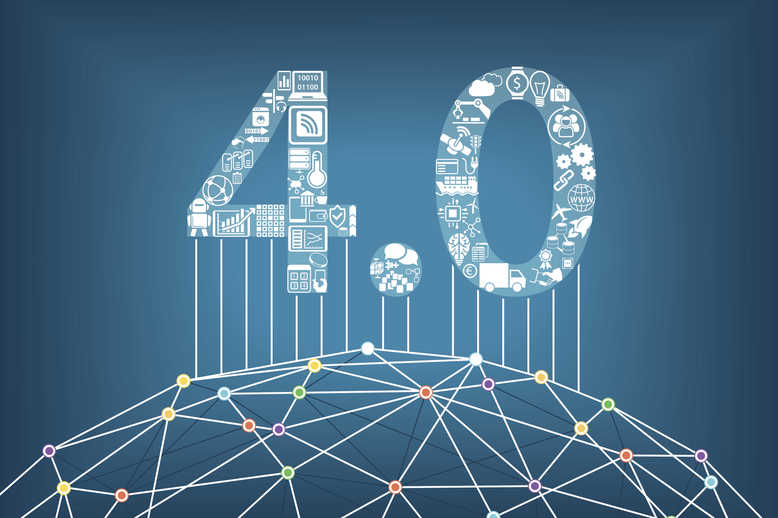 May 19' – To start with a positive Stat, India's export in recent times have shown positive growth to 8.85% from 2018-19 reaching around $300bn. India has gained global exposure with enormous growth in the scale of import and exports (value touching $800bn). The scale of industrial operation has been rapidly growing in this country with better employment opportunities. India though being a developing country, nothing has stopped it technologically growing and keep up in pace with rest of the world.
It is obvious that due to globalization, India's manufacturing capabilities have improved a lot and  industries acknowledge the need of next level of advancements. This article is a try to convey that, India is targeting for a futuristic industrial ecosystem and bring a modern industrial revolution by adopting Industry 4.0.
Now this leads to few questions. Is that concept really in the near future? Is India ready yet for a global hot topic such as Industry 4.0?
Lets first have a look into how our industries have evolved over the last century.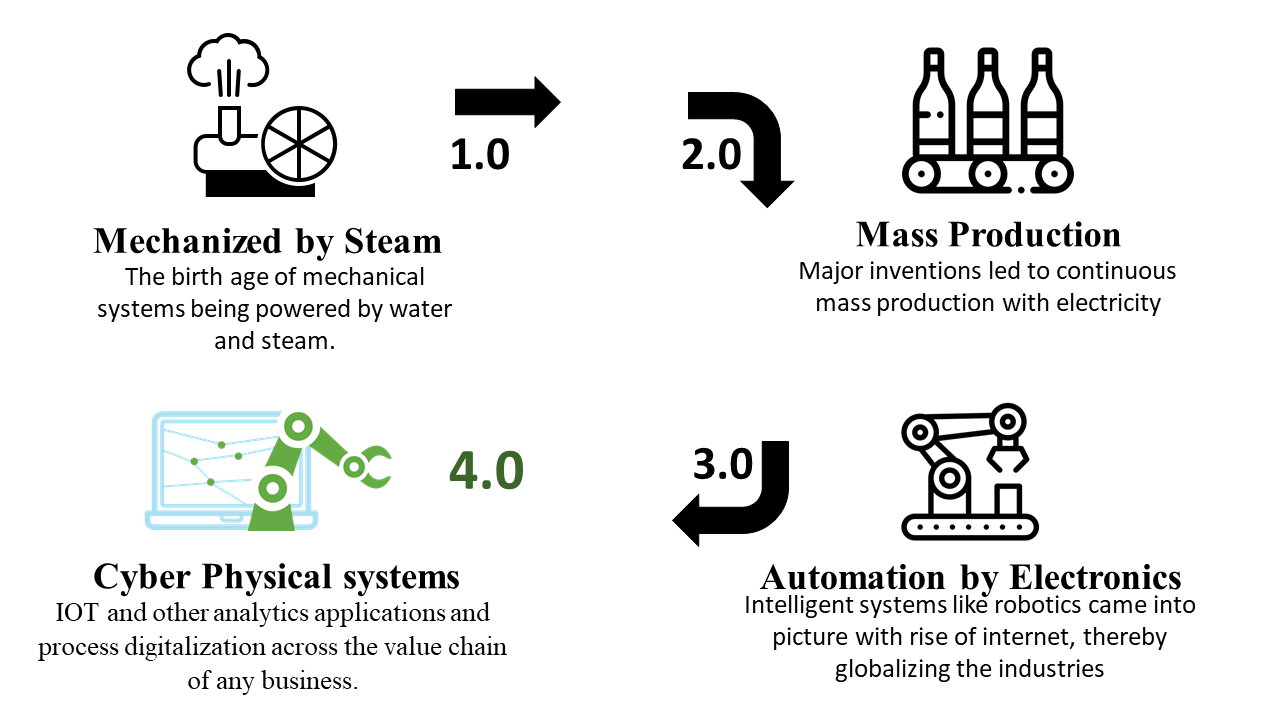 So, what are the key attributes that India has to look forward in implementing industry 4.0:
A virtual Decision Center….
The decision making is a difficult task for companies when data resides in multiple physical systems across the enterprise. With need for decision making to be real time and proactive , it is time for India to adopt Cyber physical Systems, which forms a decentralized decision center by replicating those physical systems in a virtual scenario.
A Data Management tool …
Regarding data, India can never skip Big data analytics where a large cluster of data gets analysed through various mathematical models to uncover hidden patterns, trends and draw useful outcomes. This is already happening and is challenging the traditional market research methods.
An Intelligence with Internet …
India alone has 500 Million users for internet. Imagine industries adopting Internet of Things – The global internet architecture allows to aid exchange of right information with physical applications at the right time to take right decisions.
And few more …
There are also several other concepts of Industry 4.0 like Cloud computing which is a computing procedure that allows to minimize the computer related hardware and make it globally available. In other words, it is simply remote computing. Artificial Intelligence, a concept for Machines showing human near intelligence. There are also methods of rapid prototyping allows to form three dimensional shapes with additives. Yes, 3D printing.
---
"On global average India has just converted 28% of its factories to smart factories"
---
So, what is the current state scenario? Are we anywhere near Industry 4.0. One cannot deny the fact that India is definitely going towards 4th generation industry practices. But is India ready? Here are few major happenings in India that can help us understand.
"On global average India has just converted 28% of its factories to smart factories. Whereas, developed countries like USA-54%, Germany 46% and France 45%."
---
"There are some Notable examples of smart factories in India. Self-aware factory builds by IIT Bangalore jointly with Boeing company. Godrej and Welspun are those factories which work in Intelligent plant framework.  Tata motors in Pune and Mahindra & Mahindra in Nashik have robots to do several automated operations."
---
"Make in India is spreading wide awareness on industry 4.0. On top of it, Foreign Direct Investment in India has increased by 1932 USD Million in February of 2019 which is really a high moment for Indian business environment."
---
"Government of India is targeting manufacturing sector to contribute 25% of GDP by 2025. For this to happen, government is taking many infrastructural and investment initiatives through various industry corridors across the country."
---
"To make India's presence significant globally, India is aiming to reach 20% share in IOT market in next 5 years."
---
To end with a positive note, the future looks sturdy for India. With the ongoing initiatives, it seems India has a grip on its version of Industrial development. More than the question of "Is India ready for industry 4.0?", it is required to understand "how effective is India gearing up for Industry 4.0?"

Industry 4.0